It seems like I can not post in "Final Art" section so I am posting the image here. The image is pretty much done.
My goal was to create a shot which is fully procedurally from start to finish. So it was a pipeline test for me. The whole thing is fully adjustable - recreatable including the final comp(thanks to proceduralism) and the variations of macrophage type cells etc. The whole thing took couple days. To me, everything went fine except render times. Overall I love everything about Houdini except the render times. The reason I personally am not happy about it because I have been mostly a Modo, Lightwave and Messiah user so these apps have relatively speedy renderers compared to the Houdini`s.
The scene has a single area light with ambient light. The shaders are mix of couple standard Houdini shaders and my own shaders.
Anyways I have been happy with the process and the final look. I am hoping to see render speed optimizations in near future in Houdini.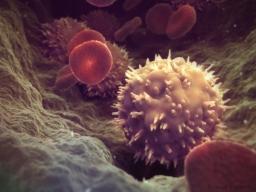 Edited by kursad, 01 January 2011 - 10:11 AM.